Sorry if I've been MIA for May. I've been busy/stressed over other things that I've neglected blogging. Don't distress however because I haven't neglected food for sure! When I write reviews, I have to write them fresh. Meaning usually right after I eat or the day after max, just to get a concise article while the taste is still lingering in my mouth. So, because I've been slacking my lazy ass of for May. I'll just be showing photos of where I ate at recently and I'll do reviews when I eat there again. Sarrryy! :p
First up is at Cul-de-Sac at Sto. Nino Village in Banilad. According to Wikipedia this word means: A cul-de-sac (literally "bottom of bag") is a word of French origin referring to a dead end, close, no through road (UK, Australian and Canadian English) or court (American and Australian English) meaning dead-end street with only one inlet/outlet.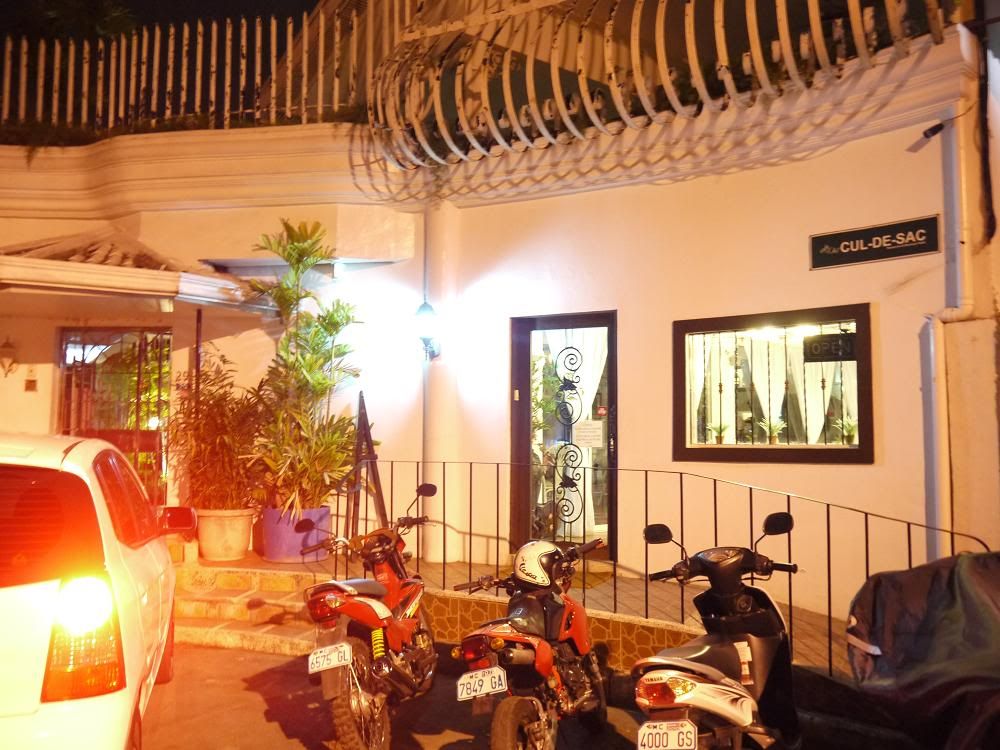 Here is a picture to better illustrate what cul-de-sac - the word and the restaurant both, looks like


It's really just quite a small restaurant, which is really what most of the places I frequent at look like. Basically your hole-in-the-wall dining places. They have an indoor airconditioned dining area and an outdoor patio dining area.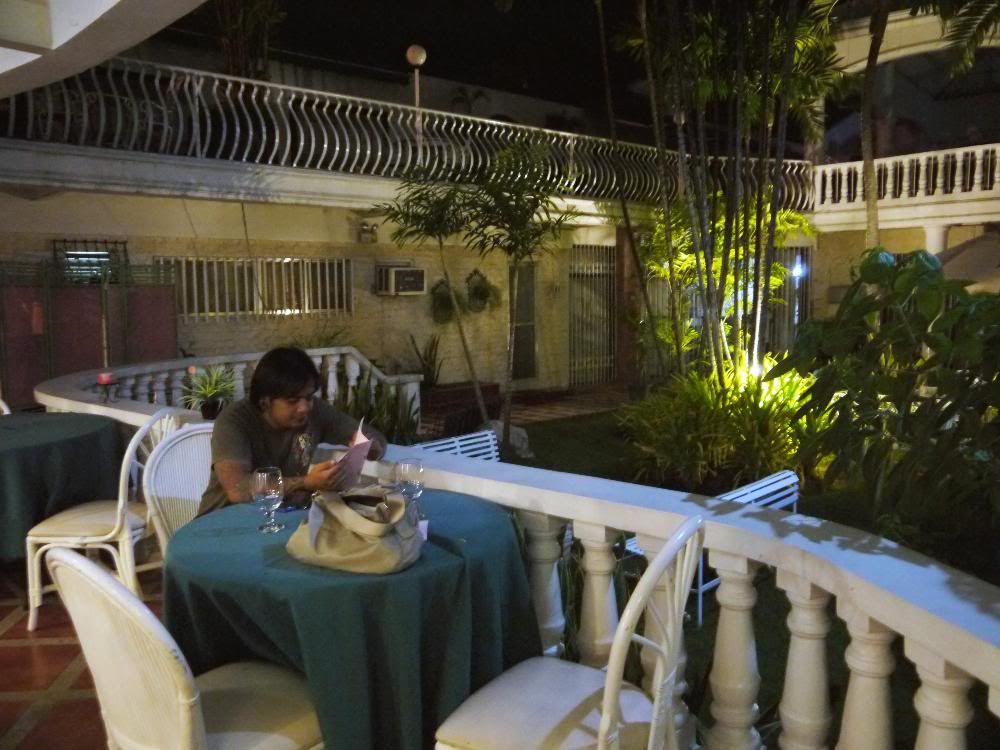 They serve mostly fine dining stuff on the menu but the prices are relatively cheap, approximately under P150 per dish and each meal comes with a complimentary ice cream for dessert. The food wasn't anything really worth craving for. It was alright, I'm pretty neutral about the taste of it. But considering the price that you're paying for it, I'd say it's not bad already. They also have some function rooms which you can rent for a small price, I assume, using their existing menu for ala carte as a reference.
Up next is, Abaseria in Mabolo. Just so we can ground everybody on these unfamiliar words, Abaseria means sari-sari store in Spanish. For those who have been here a few years ago but haven't had the chance to come back again, they have relocated but they are still situated inside the village however they have moved to the rear part of the area.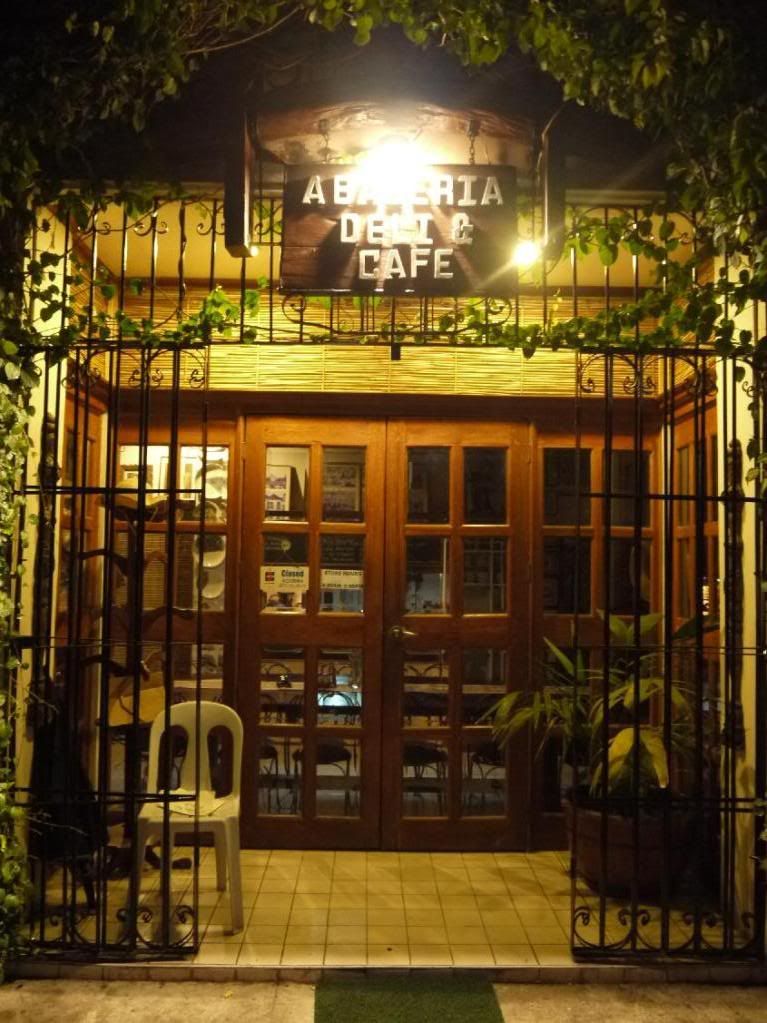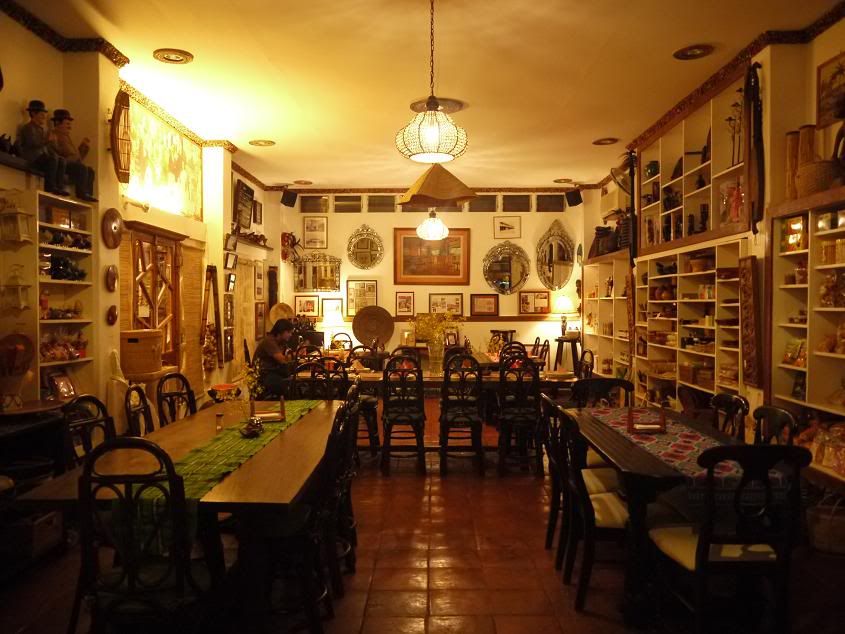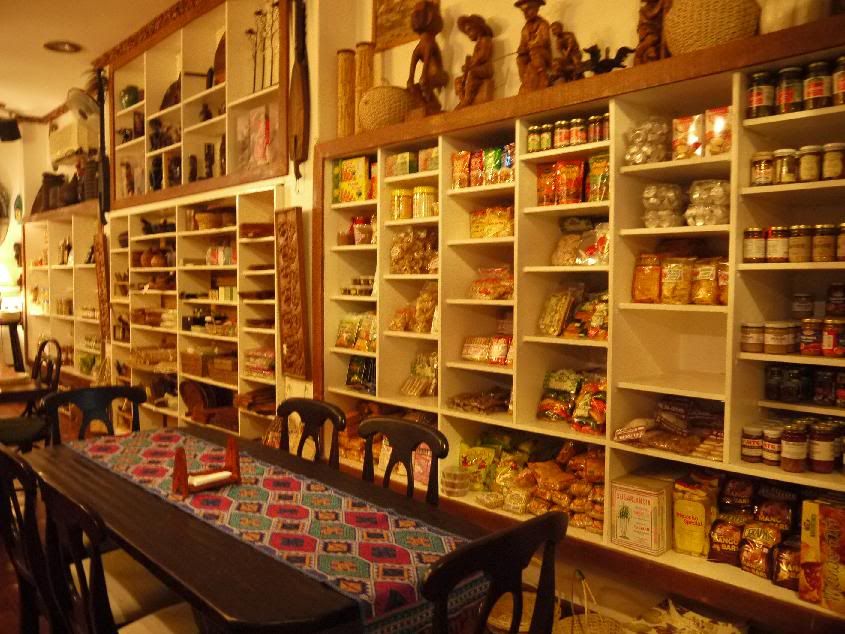 This revamped restaurant is definitely roomier and better designed than the old one. They still have their delicacies and accessories merchandise along with some Spanish regime memorabilia hanging on their wall. The prices of their merchandise and food are pretty high (Imagine, P150 for one bowl of monggo soup compared to P20 for that in a carenderia!) for me, considering you can get the same kind of food at a good canteen or cheaper Filipino restaurant but I think eating at this place is really more for the experience than the food itself especially since they really do go the extra mile for the presentation and aesthetics of the food as well as the homey interior of the whole place. I reckon that this would be a perfect place to bring some foreign visitors for a walkthrough of the Cebuano lutong-bahay, minus the humid temperature and flies that we locals are accustomed to, in a carenderia.
The last one is going to be a bit different because it will be the first time that I'll be writing about a non-Cebu place. As some of you know, I run a business which leads me to travel quite frequently to Manila. There is a much celebrated weekend market in Makati which has always tickled my fancy but I never got around to coming to it because I'm always attending to some business matters on Saturdays that I'm in Manila. Thankfully, I was able to make some time for it a few weeks ago when I was in town.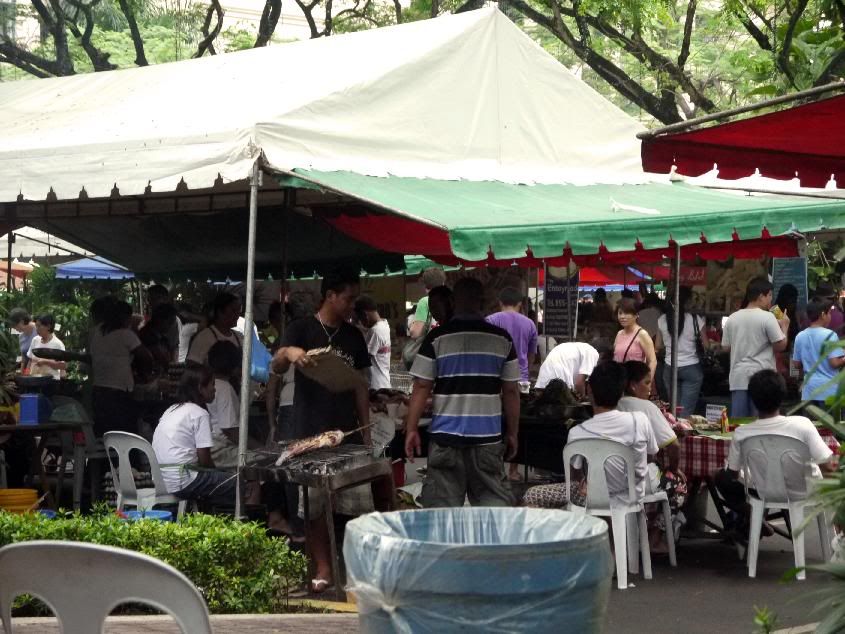 Salcedo Market
(sorry this is not the best photo to represent this glorious food fest but I don't have anything better)
This weekend market features home made recipes and specialties by micro entrepreneurs, who mostly have corporate day jobs or run other businesses during the weekdays but want to showcase their culinary prowess during the weekend. A lot of these foods and other products aren't readily available at the malls so you're really in for a treat when you go to this market because you will surely see or taste things that you haven't before! I heard that there is another weekend market in Makati at Legaspi Village, so that's definitely on one of my must-try things soon!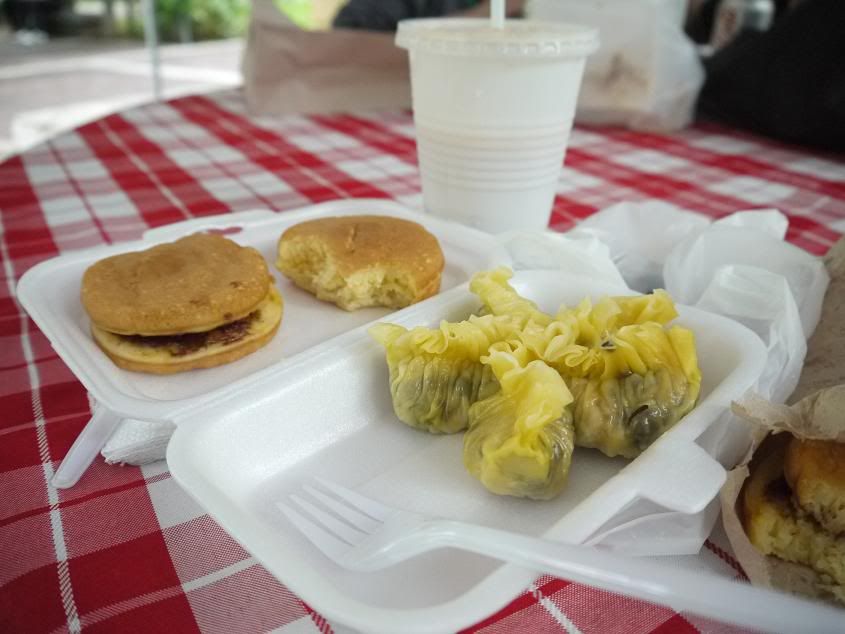 Just a peek at some of the stuff we had at the market: Thai Iced Tea (P50), Japanese pancakes (P16 per piece), Sharksfin siomai (wasn't that good for me so I didnt remember the price, sorry!)
That wraps up my gastronomical updates for the month of May. I've been starting June with spicy Asian and Mediterranean-ish dishes so keep posted for those!
P.S. I've placed the addresses of the said establishments above for anybody's reference
Eternally famished,
Pearl
The Old Cul-De-Sac 29 Maya St. Sto. Nino Village Banilad, Cebu City

(open on Mon-Sun 11:00 AM - 2:00 PM and 6:00 PM - 10:00 PM)
Abaseria Deli and Cafe 39-B Pres. Roxas St. cor. Cong. Noel St., Villa Aurora Subd, Kasambagan

(open on Mon - Sat 9:00 AM - 10:00 PM and Sun 9:00 AM - 2:00 PM )
Salcedo Market Jaime Velasquez Park, between Leviste and Tordesillas Streets

,

Salcedo Village, Makati
(open on Saturdays 7:00 AM - 2:00 PM)